I love the variety of workouts you can do outside. Some of the best places are on the coastline, using the beach access stairs, hills, sand and water.
Stairs are one of the best workouts as your getting the added resistance without the impact of running on a flat surface. In Encinitas I love Stonesteps as the stairs are very verticle and a bit more narrow so you have to keep your balance while working your legs and heart.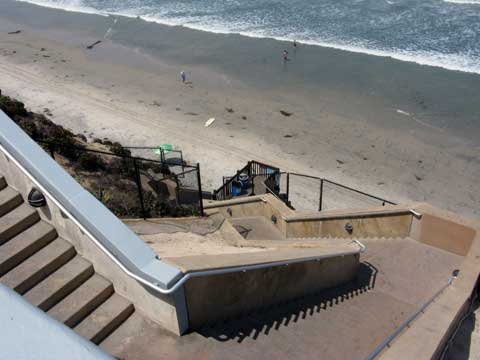 Going south there is lots of beach on low tide and many more sets of stairs around a 130 steps per stair case.
I do 1 stair at a time 2 at a time 3 at a time as well as side ways,backwards and pushups at each landing.
Start with 10  push ups per landing and move up when you can do 10, then add 10 squats with 10 pushups.
Now your working the heart muscle as well as your other muscles at the same time. very effecient workout outside enjoying the sunshine!
Aiming to 100 pushups over 10 flights.